AquaVantage® 815 GD
The Cleaning Standard In Immersion & Ultrasonic Detergents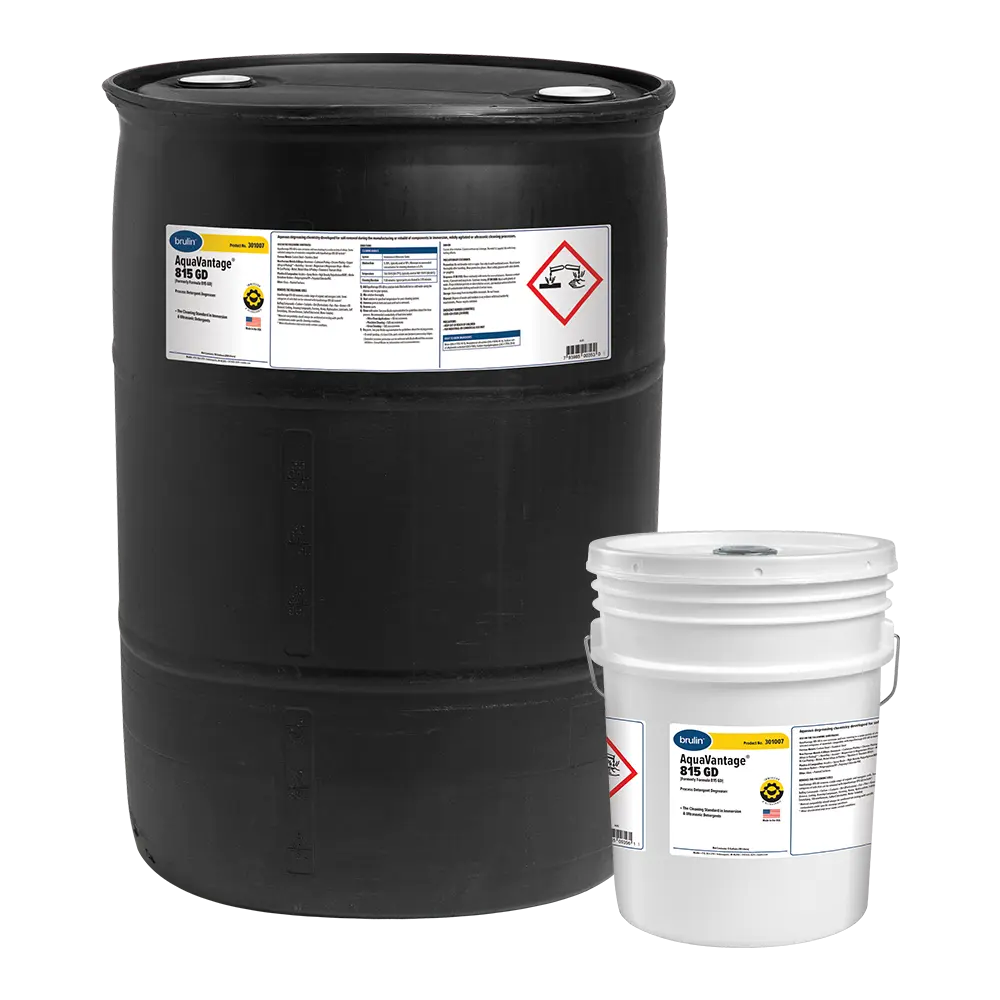 SKU: 301007
An unrivaled combination of highly effective parts cleaning, broad material compatibility, extensive industry approvals, and recyclability produced in a safe formulation. AquaVantage® 815 GD aqueous detergent is the aerospace cleaner of choice in most immersion and ultrasonic cleaning applications.
Mildly alkaline solution which cavitates in ultrasonic tanks with unparalleled performance, providing a water-break-free surface
Use during the manufacturing or rebuild of aerospace components in immersion parts washers, mildly-agitated or ultrasonic tank cleaning processes
(Formerly Formula 815 GD)
Material Compatibility
AquaVantage® 815 GD aqueous detergent is non-corrosive and non-staining to a wide variety of alloys. Some selected categories of materials compatible with AquaVantage® 815 GD include*:
Ferrous Metals: Carbon Steel • Stainless Steel • Steel
Non-Ferrous Metals & Alloys: Aluminum • Cadmium Plating • Chrome Plating • Copper (Alloys & Plating)** • Hastelloy • Inconel • Magnesium & Magnesium Alloys • Monel • Ni-Cad Plating • Nickel, Nickel Alloys & Plating • Titanium & Titanium Alloys
Plastics & Composites: Acrylics • Epoxy Resin • High Density Polyethylene/HDPE • Nitrile Butadiene Rubber • Polypropylene/PP • Polyvinyl Chloride/PVC
Other: Glass • Painted Surfaces
* = Material compatibility should always be confirmed via testing with specific contaminants under specific cleaning conditions.
** = Minor discoloration may occur under certain conditions.
Soil Removal
AquaVantage® 815 GD aqueous detergent removes a wide range of organic and inorganic soils. Some categories of soils that can be removed with AquaVantage 815® GD include*:
Buffing Compounds
Carbon
Coolants
Dirt (Particulate)
Fat
Flux
Grease
Inks
Oil (General, Cutting, Drawing Compounds, Forming, Honey, Hydrocarbon, Lubricants, Self- Emulsifying, Silicone/Greases, Sulfur/Chlorinated, Water-Soluble)
* = Material compatibility should always be confirmed via testing with specific contaminants under specific cleaning conditions.
Approvals & Conformance
Airbus: A330 Maintenance Manual Task 32-11-00-220-843-A32-11-00 PB 601
Airbus: AIPI 09-01-003 Approved Alkaline Cleaner
Airbus: CML, 08AKB1
Airbus Industries: Consumable Material List (CML) Item #11-024A
Airbus UK: ABP 8-1290; Approved Alkaline Cleaner
American Airlines: CPN4106223
American Eurocopter: AEC QA-DCR/10-06/01
Anheuser Busch: CTS #07979-000
Bell/Textron: Material Bulletin 1608J
Boeing: BAC 5749; Alkaline Cleaning (PSD 6-153)*
Boeing: BAC 5753; Cleaning, Descaling, and Surface Preparation of Titanium and Titanium Alloys
Boeing: BAC 5763; Emulsion Cleaning (PSD 6-62)*
Boeing: HP 9-25; Degreasing
Boeing (McDonnell Douglas): DPM 6373
Boeing (McDonnell Douglas): DPS 9.341-1
Boeing (McDonnell Douglas): P.S. 12024; Cleaning, Aqueous Immersion Degreasing
Bombardier Aerospace: BAPS 180-040; Aqueous Degreasing
Bombardier Inc, Canadair: MPS 180-040; Aqueous Degreasing
Bombardier (de Havilland): PPS 31.04, Issue 21, Aqueous Degreaser
Ford: Tox #150887
General Dynamics, Electric Boat Division: Contract No. N0024-95-C 2103
GE Aviation: S-421
GE Aviation: SPM GEK9250 (CF6, GE90, CF34, CT7) 70-21-22, Method 1
GE Aviation: SPM CFM-TP SP2 (CFM56) 70-21-18
GE Aviation: List of Alloy Compatible Cleaners
GM: FID Number – 261545
Goodrich: ML 21304; Brake & Wheel Components
Goodrich Aerostructures (Rohr): RMS 1533
Goodrich Aerostructures (Rohr): RPS 17.23 Rev. AE; Metal Prep for Adhesive Bonding
Honeywell (Allied Signal): EMS 5317
Honeywell: Component Maintenance Manual (Fuel controls)
Honeywell: Standard Practices Manual
Hughes: SCGPS 56039
Hughes: 780202
International Aero Engines: V2500 Overhaul Processes and Consumables Index; CoMat 01-487
Lockheed Martin: EPS G32.016
Lockheed Martin: LMA-PG006, Rev B
Lockheed Martin: STP-57301; Aluminum Cleaning
Meggitt Aircraft Braking Systems: Fulfills Standard Practices Manual AP-842 (32-46-35) when used and maintained according to Brulin guidance
National Aeronautics and Space Administration (NASA): Procedures for Cleaning of Systems and Equipment for Oxygen Service
National Stock Number: 07 Size; 6850-01-392-8439
National Stock Number: 55 Size; 6850-01-392-8430
Naval Shipyard: File No. 0006902; Cleaning Respirators and Paint Equipment
Northrop Grumman: C-24
Pratt & Whitney: PMC 1437-1; PS 422 Alkali Cleaner, Immersion
Pratt & Whitney: SPMC 184, SPOP 209 Immersion Tank (oper.1) and Spray-on/Rinse-off Cleaning (oper. 3); SPS 184
Rockwell: LLD565-0013-001
Rolls Royce (Allison Engine): EPS-345
Rolls-Royce: CSS 204 Type A
Rolls Royce: OMAT 1/24S
Safran: PR-1500
Safran Aero Engines: DMP 13-300
Sikorsky Aircraft (United Technologies): SS 8423 Rev 5
SNECMA: CFM56 Manual, CP2597
SNECMA: DMP13-300 (Aluminum Alloys)
South Coast AQMD: Certified as a Clean Air Solvent
SpaceX: SPX-00006876, Primary Ultrasonic Tank Cleaner: Preclean/Degrease and Approved Solution for Cleaning
Spirit AeroSystems: SPS-107630 Emulsion Cleaning and Aqueous Degreasing
* Including BMS 8-276 substrate
Test Compliance
ARP 1755A: Stock Loss (Cat. 9)
ARP 1755B: Stock Loss (Cat. 10)
ASTM F483: Total Immersion Corrosion
ASTM F484: Stress Crazing of Acrylic Plastics
ASTM F485: Unpainted Aircraft Surfaces
ASTM F502: Painted Aircraft Surfaces
ASTM F519: Hydrogen Embrittlement (Type 1c)
ASTM F945: Titanium Stress Corrosion (AMS 4916 & 4911 Alloys)
ASTM F1110: Sandwich Corrosion
ASTM F1111: Low-Embrittling Cadmium Plate
Boeing: D6-17487 Rev. K; Exterior Cleaner
Boeing (McDonnell Douglas): CSD 1; general Purpose Cleaner
Contains No Cyanides or Sulfides
GE Aviation: CT-882; Solvent Replacement
MIL STD 1330 Approved: Pre-Cleaning of Breathable Oxygen Components
PWA 36604 Rev. D: Determination of the Effect of Chemical Cleaners on Non-metallic Alloys (O-Rings)
PWA 36604 Rev. D: Hot Corrosion Testing
Typical Specifications
| | |
| --- | --- |
| Physical Form | Liquid |
| Color | Blue-Green |
| Fragrance | Mild |
| Viscosity | Water-thin |
| Working pH | 12.0 (typical) |
| Dilution Range | 1:19 – 1:3 |
| Typical Dilution | 1:9 |
| Flash Point (PMCC) | None to Boiling |
| Container Options | 275 Gal Tote, 55 Gal |
| Foaming Tendency | Moderate to High |
Request Technical & Safety Data Sheet
If you are interested in receiving a TDS or an SDS for more information on this product or any other product, please fill out the form below and a cleaning process specialist will be in touch.