AquaVantage® Passivation
Aqueous Citric Acid Passivation Chemistry for Stainless-Steel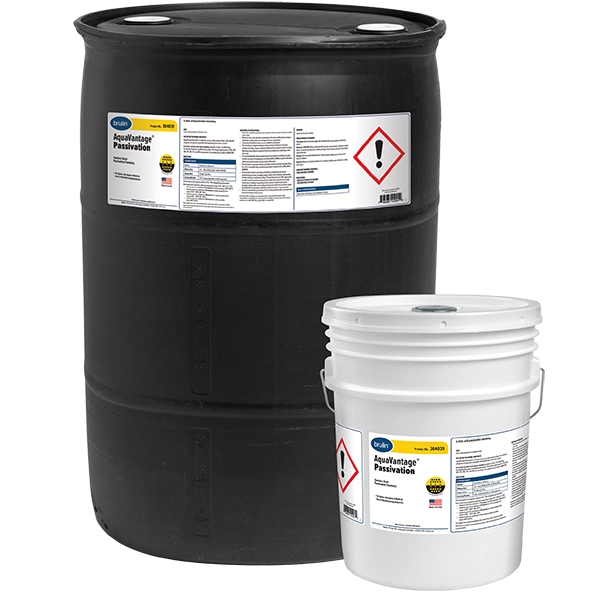 SKU: 304039
Conforms to AMS 2700 Method 2, ASTM 380 & ASTM 967
Compatible with a wide range of stainless-steel alloys
Fast-acting (effective in as little as 4 minutes)
Highly dilutable formula
Effective in a wide range of bath temperatures
AquaVantage® Passivation is a dilutable citric acid formulation specifically developed for the passivation of stainless steel parts. AquaVantage® Passivation conforms to multiple aerospace specifications and is specifically formulated for use in the Space, Aerospace, and Medical manufacturing industries.
This product has been designed to be used in conjunction with Brulin brand immersion or ultrasonic detergents.
Material Compatibility
AquaVantage® Passivation is suitable for use on a wide variety of alloys. Some selected categories of materials compatible with AquaVantage® Passivation include*:
Corrosion resistant steel alloys including: Austenitic • Ferritic • Free Machining • Precipitated Hardened • Martensitic grades. This includes typical grades of 303, 304, 308, 311, 316, 17-4, and 420, among others.
For complete list see table 4 in AMS 2700.
* Material compatibility should always be confirmed via testing with specific contaminants under specific cleaning conditions.
Use Recommendations
Cleaning System: Immersion or Ultrasonic
Dilution: 4.0 – 10.0% WT/WT (4.05% – 10.12% VOL/VOL)
Cleaning Temperature Range: 70° – 160°F (21° – 71°C)
Rinse Instructions
Thoroughly rinse parts immediately after removal from the passivation solution. Final rinse should be carried out in clean water.
Rinse Water Quality
Use of de-ionized water for the rinse is recommended.
Post-Passivation Inspection
Once passivating is finished, and the parts are rinsed and dried, they should be completely free of surface defects. Pitting, etching, hazing and staining would all be indicative of the possible presence of free iron. Post-passivation, parts can be tested for free iron as required by the specifications or purchaser to verify passivation success.
Approvals & Conformance
See Test Compliance
Test Compliance
AMS 2700
ASTM 380
ASTM 967
Typical Specifications
| | |
| --- | --- |
| Physical Form | Liquid |
| Color | Clear/Slight Yellow |
| Fragrance | None |
| Typical Dilution | 4-10% |
| Working pH | <1 |
| Container Options | 275 Gal Tote, 5 Gal, 55 Gal |
| Viscosity | Water-Thin (~20 CPS) |
| Flash Point (PMCC) | None To Boiling |
| Foaming Tendency | None |
| Container Options | 275 Gal Tote, 5 Gal, 55 Gal |
Request Technical & Safety Data Sheet
If you are interested in receiving a TDS or an SDS for more information on this product or any other product, please fill out the form below and a cleaning process specialist will be in touch.