Brulin MP 1793
Multi-Purpose Wipe Solvent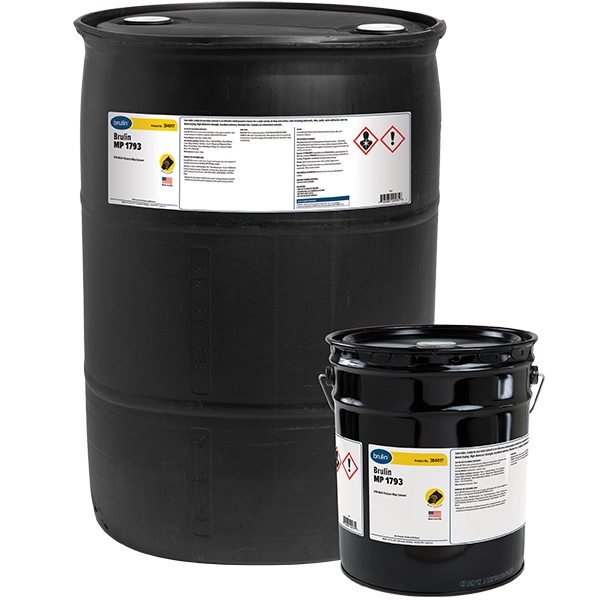 SKU: 304017
Contains No Chlorinated Solvents
Residue-Free
Safe on Most Metals
Quick-Drying
High Dielectric Strength
Excellent Solvency
Low-odor, ready-to-use wipe solvent is an effective multi-purpose cleaner for a wide variety of shop and surface soils including lubricants, inks, caulk, some adhesives, and tar.
Approvals & Conformance
Approved for use with Dow Corning Silicone Building Sealants per ASTM C794: Peel Adhesion Test
Approved for use with GE Structural Adhesives per ASTM C794: Peel Adhesion Test
Boeing: Number 84086
Boeing (McDonnell Douglas): DPM 6380-1; MCS 6000, Type IB, Type IIIB, Type V, Type VI
Hamilton Sundstrand
National Stock Number: 6/100 Wipe Size; 6850-01-466-6157
Sikorsky Aircraft (United Technologies): QPL SS9170/204 rev1
Test Compliance
ARP 1755B: Stock Loss Tests (Cat. 9)
ASTM C794: Peel Adhesion Test
ASTM D877: Dielectric Breakdown (to 30,000 volts)
ASTM F519: Hydrogen Embrittlement (Type 1c)
ASTM F945: Titanium Stress Corrosion (AMS 4911 Alloy)
Typical Specifications
| | |
| --- | --- |
| Typical Dilution | RTU |
| Color | Water White |
| Fragrance | Mild |
| Container Options | 32 oz/12 (20), 5 Gal (05), 55 Gal (55) |
Request Technical & Safety Data Sheet
If you are interested in receiving a TDS or an SDS for more information on this product or any other product, please fill out the form below and a cleaning process specialist will be in touch.