Brulin SD 1291
Safe Ready-To-Use Solvent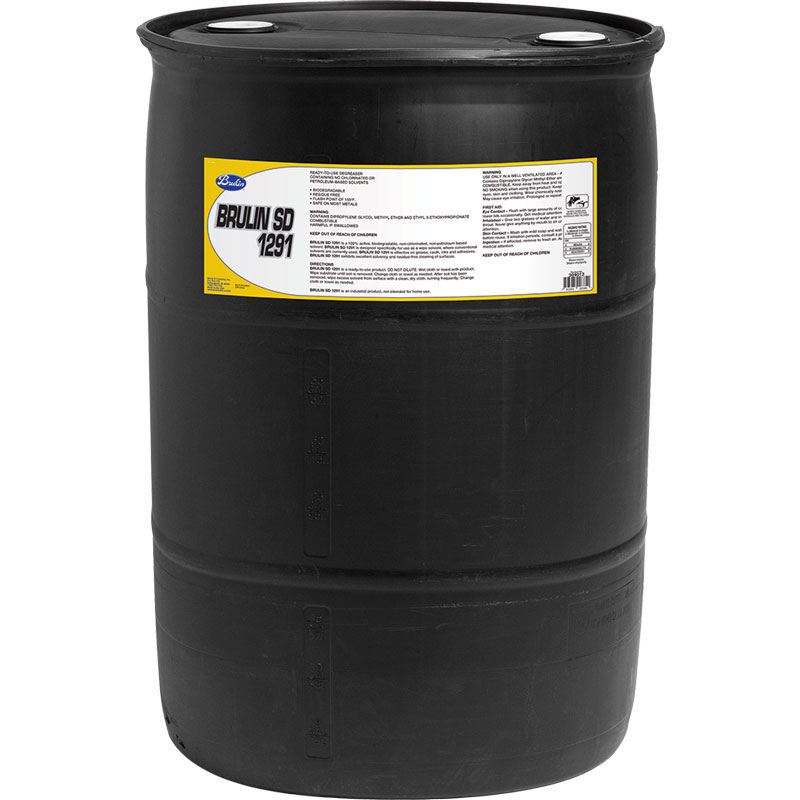 SKU: 304012
Biodegradable
Residue-Free
Safe on Most Metals
Residue-free solvent degreaser provides effective cleaning for inks and a wide range of industrial soils. Excellent solvency. No chlorinated or petroleum-based solvents.
Approvals & Conformance
Ford: Tox #138532
GM: FID Number -261497
Navy Specifications: Removal of Grease and Adhesives to Replace MEK Publication Manual

110-300 Air Frames
150-300 Power Plants

Sikorsky Aircraft (United Technologies): QPL SS9170/204 rev1
National Stock Number: 05 Size; 6850-01-423-1072
National Stock Number: 55 Size, 6850-01-423-1072
Test Compliance
ARP 1755A: Stock Loss (Cat. 9)
ASTM D471: Effect on Rubber Property
ASTM D485: Unpainted Aircraft Surfaces
ASTM D5229: Moisture Absorption
ASTM F519: Hydrogen Embrittlement (Type 1c)
ASTM F945: Titanium Stress Corrosion (AMS 4911 Alloy)
Typical Specifications
| | |
| --- | --- |
| Typical Dilution | RTU |
| Color | Water White |
| Fragrance | Sweet/Pungent |
| Container Options | 5 Gal (05), 55 Gal (55) |
Request Technical & Safety Data Sheet
If you are interested in receiving a TDS or an SDS for more information on this product or any other product, please fill out the form below and a cleaning process specialist will be in touch.