Formula 815MX II
Multi-Functional Cleaner Degreaser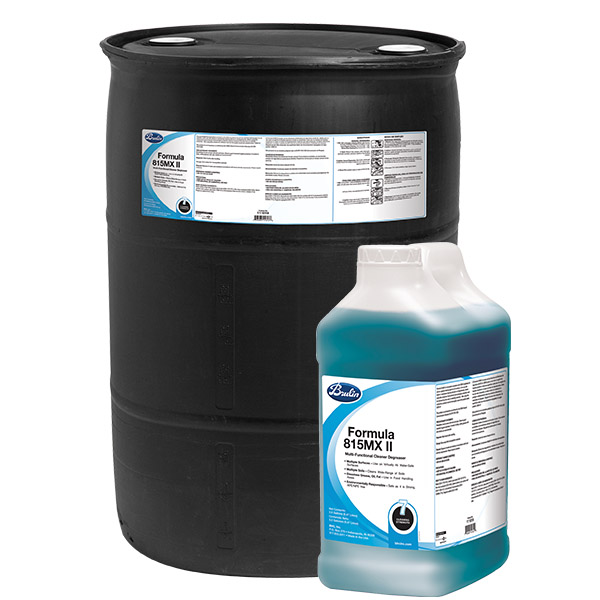 SKU: 111019 (Discontinued)
Use on virtually all water-safe surfaces
Cleans a wide-range of soils
Dissolves grease, oil, and fat for use in food handling areas
Environmentally responsible, as safe as it is strong (APE/NPE-free)
Formula 815MX II provides powerful cleaning, degreasing, and soil removal in commercial applications – including engine degreasing.
---
Looking for more to Formula 815 MX II?
Try the super-concentrated version or TerraGreen® Degreaser 🡒
---
Soil Removal
Formula 815MX II cleans most soils, including:
Animal Fat & Protein
Dirt (Particulate)
Fat
Food Soil
Grease
Oil
Road Grime
Rubber & Tire Marks
Smoke Residue
Surface Compatibility
Formula 815MX II cleans virtually all water-safe surfaces, including:
Aluminum
Brick
Brass
Canvas
Ceramic Tile
Chrome
Composition Tile
Concrete
Copper
Laminates
Plastic*
Painted Surfaces*
Porcelain
Quarry Tile
Resilient Tile
Rubber
Stainless Steel
Vinyl
* = Surface compatibility should always be confirmed via testing with specific contaminants under specific cleaning conditions.