Solstice® PF-HP
Aerospace Cleaner For Cleanliness Verification & Vapor Degreasing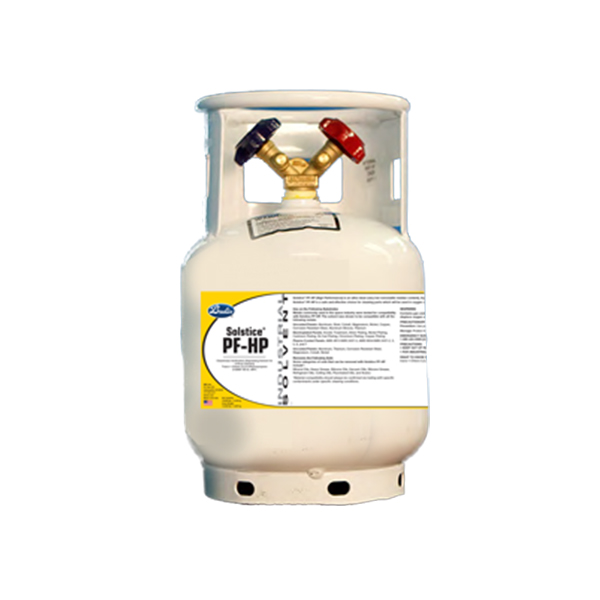 SKU: 10639750, 10640064
Honeywell's Solstice® PF-HP (High Performance) is an ultra-clean (very low non-volatile residue content), highly-effective, nonflammable aerospace solvent with a favorable toxicity profile and low environmental impact.
In 2015, NASA announced it had tested Solstice Performance Fluid (PF), stating it is a "preferred replacement for cleaning and non-volatile residue (NVR) verification sampling of NASA propulsion oxygen systems hardware, ground support equipment (GSE), and associated test systems."
ASTM G72/G72 m-15 Approved for LOX Components
A safer, effective choice for precision parts cleaning. specifically for parts that will be used in oxygen service
Less than 2ppm NVR
Cleans mineral oils, heavy grease, silicone oils, vacuum oils, silicone grease, refrigerant oils, cutting oils, fluorinated oils, and Krytox
Solstice® is a registered trademark of Honeywell International, Inc.
Material Compatibility
Information provided by Honeywell
Metals commonly used in the aerospace industry were tested for compatibility with Solstice® PF-HP. The solvent was shown to be compatible with all the metals listed below when tested according to the ARP 1755B method.
Uncoated Panels
AMS 4037 Aluminium
AMS 5040 Steel
AMS 5537 Cobalt
AMS 4375 Magnesium
AMS 5382 Cobalt
AMS 5596 Nickel
AMS 4442 Magnesium
AMS 5504 Corrosion Resistant Steel
AMS 5661 Nickel
AMS 4507 Copper
AMS 5508 Corrosion Resistant Steel
AMS 6431 Steel
AMS 4544 Nickel
AMS 5524 Corrosion Resistant Steel
AMS 4434 (AZ92) Magnesium
AMS 4640 Aluminum Bronze
AMS 5525 Corrosion Resistant Steel
MAR-M-002
AMS 4911 Titanium
AMS 5536 Nickel
IMI 685
Electroplated Panels
AMS 4037/AMS 2470 Anodic Treatment
AMS 5504/AMS 2410 Silver Plating
AMS 5504/AMS 2424 Nickel Plating
AMS 5504/AMS 2400 Cadmium Plated
AMS 5504/AMS 2416 Ni – Cad Plating
AMS 5504/AMS 2406 Chromium Plating
AMS 5504/AMS 2418 Copper Plating
Plasma Coated Panels
AMS 4911/AMS 2437-3
AMS 5504/AMS 2437-3
AMS 5504/AMS 2437-6
AMS 5504/AMS 2437-2
AMS 5504/AMS 2437-5
AMS 5504/AMS 2437-7
Uncoated Panels
Intergranular End Grain Pitting/ASTM F2111 Testing
AMS 4037 Aluminum
AMS 4911 Titanium
AMS 5504 Corrosion Resistant Steel
AMS 4375 Magnesium
AMS 5382 Cobalt
AMS 5536 Nickel
NASA Material Compatibility Tests
NASA also ran metal compatibility with Solstice PF-HP using the metals listed below, and the solvent showed good compatibility with each of them.
Ferrous Metals
A286 SST (Stainless Steel, Incoloy Alloy® A-286)
304L (Stainless Steel, Austenitic Alloy)
440C SST (Stainless Steel)
17-4PH (SAE Type 630 Stainless Steel, UNS S17400)
AISI 4140 (Chromium & Molybdenum Alloy Steel)
Non-Ferrous Metals
Eligiloy
lnconel 718
Monel 400
Naval Brass
Tin Bronze 510
6061 T6 AI (Aluminum Alloy)
2219 T6 AI (Aluminum)
2195 T8 (AI Li) (Aluminum Lithium Alloy)
Soil Removal
Information provided by Honeywell
Solstice® PF-HP is able to dissolve a number of typical soils that are encountered in military and aerospace cleaning. The below selection of soils have been tested and can be easily dissolved by Solstice® PF-HP.
The solubility characteristics allow for Solstice® PF-HP to be used in a wide variety of military and aerospace cleaning operations.
Mineral Oils
Heavy Grease
Silicone Oils
Vacuum Oils
Silicone Grease
Refrigerant Oils
Cutting Oils
Fluorinated Oils
Environmental & Safety Profile
Information provided by Honeywell
Negligible ozone depletion
Very low global warming potential (GWP)
MIR indicates Solstice® PF-HP will create less ground level ozone or smog than ethane
Designated as VOC exempt by the United States EPA and California's South Coast Air Quality Management District (SCAQMD)
Solstice® PF-HP does not exhibit any flashpoint or vapor flame limits. It has been determined that it has no vapor flame limits at temperatures up to 100°C in ASTM E 681 testing.
Environmental & Safety Properties
Flash Point: None
Lower Flame Limit, vol %: None
OEL (PPM): 800
GWP (100-year): 1
VOC (U.S.): Exempt
AIT O2 Enriched ASTM G72 @ 1500 psig: 210 °C (410 °F)
Test Compliance
ARP 1755B: Stock Loss (Cat. 10)
ASTM E681: Concentration Limits of Flammability of Chemicals (Vapors and Gases)
ASTM F502: Effect on Painted Surfaces
ASTM F485: Residue
ASTM F1110: Sandwich Corrosion

2024-T3 Bare/Anodized per MIL-C-5541
2024-T3 Bare/Anodized per MIL-C-865
2024-T3 Clad/Anodized per MIL-C-5541
2024-T3 Clad/Anodized per MIL-C-8625
7075-T6 Clad/Anodized per MIL-C-5541
2075-T6 Clad/Anodized per MIL-A-8625
7075-T6 Bare/Anodized per BAC 5019

ASTM F483: Immersion, Corrosion, Aluminum (Aluminum 7075-T6)
ASTM F483: Cadmium Removal (4130 Steel Panels)
ASTM F519: Hydrogen, Embrittlement (Cadmium plated per MILSTD-870)
ASTM F502: Paint Softening (Type II and III primer)
ASTM F945: Titanium Stress Corrosion
ASTM G72: Autogenous Ignition Temperature of Liquids and Solids in a High-Pressure Oxygen-Enriched Environment
Request Technical & Safety Data Sheet
If you are interested in receiving a TDS or an SDS for more information on this product or any other product, please fill out the form below and a cleaning process specialist will be in touch.