TerraGreen® Bio-Cleaner / Degreaser
No Rinse, Deep Cleaning Tile & Grout Cleaner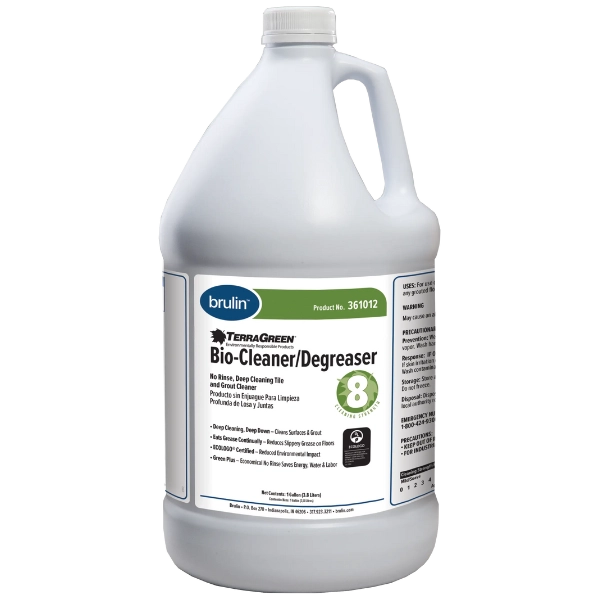 SKU: 361012
Cleaning Strength: 8 (Heavy-Duty)
For use on quarry tile, ceramic tile, concrete, brick, or any grouted floor surface.
Deep cleaning formulation means surfaces and grout are cleaned deep down
Continually eats grease, removing the primary cause of slippery floors
Independently certified by EcoLogo for environmental responsibilities
Economical formulation and application saves energy, saves water, and saves on labor costs
TerraGreen® Bio-Cleaner/Degreaser combines traditional cleaning agents with residual bio-enzymes to deep clean surfaces, deep down into pores and grout. Continual bio-action digests grease even after the floor dries and between applications to reduce the primary cause of slippery floors.
Using warm or cold water with TerraGreen® Bio-Cleaner/Degreaser saves energy, requires no rinsing, saves on labor costs, and water consumption.
TerraGreen® Bio-Cleaner/Degreaser Usage Directions
Do not use with bleach.
Sweep: Floor and clean up spills. Place caution signs.
Mix: 2-4 oz TerraGreen® Bio-Cleaner/Degreaser per gallon of warm or cold water in a clean mop bucket. (1:64 – 1:32).
Apply: Solution using a clean mop. Change solution prior to soil overload.
Scrub (if necessary): Floor with stiff bristled brush on areas with heavy soil/grease build-up.
Remove: Excess solution on floor with mop or squeegee toward drain.
Dry: Allow floor to dry thoroughly. DO NOT RINSE.